25 Years of Relationships: Repro Celebrates a Quarter Century in Business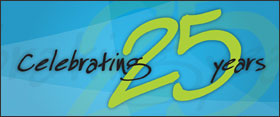 For 25 years printing has been their passion, but for Repro Graphix owners Jill and Brian Hall, printing takes second place to their first and greatest love - relationships with their customers and community.
Looking back on the last quarter-century, Jill Hall, president, knows for what she is most grateful.
"The biggest blessing to me has been the many friendships and great business relationships we have established over the last 25 years. I'm thankful for our many loyal customers, organizations and good causes that we've teamed up with in both Indianapolis and Evansville. We truly value those relationships", says Jill.
Brian Hall, co-owner, echoes his wife's sentiment.
"I love being part of the local community by not just giving dollars, but also doing something tangible through printing posters and banners and literature for many local non-profits and professional industry groups", says Brian.
Since the Halls first opened their doors as a blueprint shop in Evansville in 1985 and the first Indianapolis office soon after, Repro Graphix has built its success one relationship at a time, adhering to the philosophy of knowing customers' needs and exceeding expectations on every project.
Brian and Jill are quick to point out that this has only been possible through the hard work of their staff.
"I stand in amazement at the unwavering commitment and dedication of our employees over the years", says Brian. "The late nights, early mornings and long weekends to meet the time-sensitive needs of our industry are extremely appreciated."
Meeting the needs of the industry through changes in technology has been part of the fun. In 2003 Repro Graphix wrote the code for their own online construction bidding communication tool, the ePlanroom. Today the ePlanroom is a vital resource used by thousands of Indiana architects, contractors, owners and vendors on a daily basis.
For Brian, watching not just the changes in technology, but also the changes in the Indiana skyline, have been part of the thrill. Repro employees are proud to play a role in Indiana history through printing the plans and specs for many state landmarks. Repro printed the construction documents for such iconic projects as the French Lick Casino and West Baden Hotel, the RCA Dome expansion, Conseco Fieldhouse, and more recently for Lucas Oil Stadium, the new Indianapolis Airport Terminal and the JW Marriott. Current major projects include the new arena in Evansville and the Convention Center expansion in Indianapolis.
"Watching these projects come out of the ground throughout our state over the past 25 years and knowing that we're a part of Indiana history has been such a neat feeling", says Brian. "We take pride in being part of the construction of monumental Indiana projects."
In celebration of their own quarter-century of Indiana history, Repro Graphix underwent a refreshment of their brand identity that included an updated logo and new website, both designed by Repro's in-house graphic design team.
Looking back on a rewarding 25 years of friendships and service to their community, the Halls and their team are thankful for the journey that has brought them to this milestone.
"Wow", says Brian, "Its been a fun ride!"